About JustTankers
From humble beginnings in the 1950's to today's multi-product retail business, Just Tankers has always embodied high standards and a sterling reputation.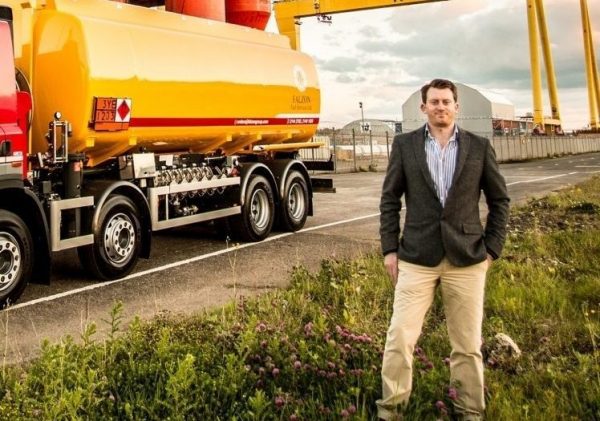 The Team
Matthew Gilmore took over the running of the Gilmore Services Ltd business in 2005, on his father's retirement. He created the JustTankers.com website to market its expanding New and Used Tanker Business.

In 2010 the company created its own MID approved pumping and metering equipment, TruFlow, and is now supplying systems worldwide.

Sourcing New Tankers from Industry leaders Magyar means the product portfolio now stretches from Fuel Tankers to Pumping and Metering Equipment, Lube Oilers to Loading racks and Powder Tanks to Waste Tanks and tankers for LNG and LPG.

Take time to look through our web site to see the range of products on offer, then give us a call to talk through your requirements. You'll find us approachable and experienced in all aspects of the products we offer.

We look forward to being of service and doing business with you soon.
Matthew was appointed MD in 2007, having worked alongside his father for many years.

The family experience of over 70 years in the tanker industry has allowed Matthew to develop and grow the company into the UK's leading specialists in oil tankers with sites in England, Northern Ireland and Ireland.

He lives in rural Northern Ireland with his wife and children. He is a motorsport enthusiast and vintage cars fan. A passion he shared with his late father and founder, Sidney Gilmore.

Richard Armour

Commercial Director

Richard joined as Commercial Manager in 2020 having worked within the transport industry for the last decade. Prior to this he held senior positions with Equifax PC, British Gas Energy and latterly within the Renewable Energy sectors before joining the transport and telematics experts travelling extensively throughout the UK and Ireland.

Richard lives on the outskirts of Belfast and when not travelling on business enjoys time with his family, F1 and many forms of motorsport.

Andrew Hamilton

Company Accountant

Andrew was appointed as Company Accountant in 2019 and is responsible for the full financial functions of the group as well as the day to day management of the accounts team.

Prior to joining the group Andrew gained over 30 years' experience in the industry with various blue-chip companies throughout the region having become a fellow of the Chartered Accountants of Ireland in 2001.

Andrew lives in his hometown in the shadow of the Mourne Mountains enjoying his weekends walking and sampling fine wine.

Eileen Macmillan

Office Manager

Eileen joined the company in 2014 to manage the reorganisation of the group and oversee the day-to-day operation of the busy administration function. Eileen is fully CMI Qualified and a recognised CIPD associate bringing this professionalism to the Just Tankers operation.

Prior to joining Just Tankers Eileen held various senior positions with both public and private organisations in the greater Belfast area.

Residing in the outskirts of Greater Belfast on her weekends off work Eileen is an enthusiastic supporter of the Ulster Rugby team as well as dining out in one of the many fine restaurants in Northern Ireland.

Graham Binstead

UK Transport & Operations manager

Graham joined the company in 2020 to manage the UK logistics, included in this is organising of the repairs, calibrations, SLPs, MOT's and ADR's of all our sales and rental fleet.

For the past 30 years Graham has worked within the fuel industry beginning as mechanic going on to become a transport and operations manager whilst retaining the required licenses and certification to carry out the operations role. Much of his time is spent between our two hubs in Stratford-Upon-Avon or visiting customers throughout GB.

Graham likes to spend quality time with his family and relaxes by attending car shows and playing pool.

Chris Steele

Operations Manager

Chris has worked in the commercial vehicle business for over 25 years starting his career on the floor and progressing to managing nine of the UK and Ireland's largest franchise truck depots. Chris oversees our fabrication, maintenance and manufacturing operations throughout the UK & Ireland ensuring the best technical support anywhere in our business sector. On his time off Chris enjoys time with his family as well as motorsport and participating in track days.

Jeff Morris

Parts Sales & Procurement Manager

Jeff joined Just Tankers in 2016 as Business Development Manager. In July 2020 he took on the role of Parts Sales and Procurement Manager for mainland UK based out of our office and warehouse in Sandbach, Cheshire. Jeff handles all purchasing and sale of parts for distribution in England, Scotland and Wales and all export of components globally.

He has worked within the commercial truck and trailer parts industry for over 40 years and has been specializing in the supply of tanker related spares and equipment for the OE and aftermarket sector for the last 25 years.

Gareth Wray

Technical Manager

Gareth joined the group in 2000 and is fully qualified and certified in all aspects of tank testing and meter calibration. Gareth is an expert in both electronic and mechanical systems having worked all over the world including Malta, Cyprus and Africa.

Gareth lives in rural Antrim and is an accomplished motorcycle racer. On his rare days off he enjoys his collection of sports bikes and time with his family and horses.